Activities
Everyone should find something they like when traveling around Iceland.
Despite how small the country is, there are a lot of different activites offered to provide great service for all the people who choose to vistit Iceland every year. Whether you ara a nature lover, thrill seeker, golfer or something else we are sure you will find something interesting to do!
Whale watching
Whale watching is without a doubt the most popular adventure activity in Iceland.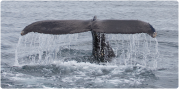 It is a unique experience at sea where one gets the opportunity to get within arm's reach of these massive creatures who many consider among the true wonders of nature.
Swimming
Swimming is a very popular activity all year round in Iceland. Almost all towns on the island have a public swimming pool filled with geothermal water. Going to one of these pools is a great way to relax in a comfortable environment. If you do not like the pools there is you can still easily go swimming. Head down to Nauthólsvík (a thermal beach) or dip into a geothermal hot spring!
River rafting
Are you looking for an easy trip to enjoy the landscape or are you a major thrill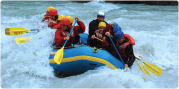 seeker looking forward to fly down raging glacial rivers feeling the untamed power of the nature?  River Rafting is something for you since one can choose from varying levels of difficulty. Professional guides will accompany you making to ensure highest level of safety for all participants.
Golf
Contrary to a popular belief, Iceland is full of golf courses. Since there is daylight 20-24 hours a day during the summer one can choose to tee off at whatever time he/she chooses. A great example of that is The Arctic Open in Akureyri which is one of the biggest yearly golf events in Iceland. Players in the international tournament tee off right around midnight with the midnight sun shining at the world´s northernmost 18-hole golf course in the world.
Horseback Riding
Numerous farms and tour operators throughout Iceland offer horse-riding tours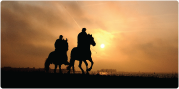 from 1 hour up to 10 days. By going on a horseback riding tour you will be able to explore some very isolated mountain passes and valleys that are simply out of reach by any other measure. Horseback riding in an isolated valley – is it possible to get more in touch with nature?
Glacier Snowmobile Tours
Imagine yourself racing across a glacier or wide open snow fields with nothing in front of you but white tundra. Whether you want to ride solo at a blazing speed or double up with a partner and enjoy the scenery, exploring an Icelandic glacier on a snowmobile is an exciting option.
Birdwatching
Iceland is a paradise for bird and nature lovers in general. More then 241 kinds of birds are known to have visited Iceland and the country is the main breeding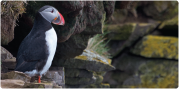 grounds for waterfowl in Europe. Places such as Látrabjarg (West Fjords) where one can dangle over the largest bird cliff in the world, Lake Mývatn and Snæfellsnes are all great places to visit to see birds in their natural habitats. Be sure to spot out the strange looking Puffin.
Fishing
Iceland is famous for its salmon and trout fishing. The high season for salmon fishing is June 20 to mid-September but the trout fishing season is usually from late April or early May until late September, occasionally stretching into October. Permits must be reserved well in advance for salmon fishing, but trout-fishing permits can usually be obtained at short notice or even at the same day. During winter, ice-fishing is quite popular and for those looking for a bigger catch sea fishing is available from May to August.
Hiking
Iceland offers a great variety of opportunities for hiking enthusiasts. Everyone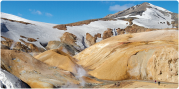 should be able to find a hiking path or trip that suites them since there are many easily accessible routes as well as some more adventurous ones in the island´s interior that require experience and preparation. So no matter whether you are looking for a comfortable stroll or a trip over lava, glaciers, black sand, deep lakes or other rugged landscape – strap on your boots and get out there!